We have been single-mindedly heading down the path of the development for machine tools specially designed for piston rings.
Since we felt a sort of mission in this business started off with the request for development from some Japanese piston ring company, we have been bent our steps diligently and stubbornly, being guided by technical experts and corporate managers in various countries of the world.
Whenever we fulfilled a bit of our mission, we find many things, which may be of our pride, marked together with our footprints.
In looking back to the past, we are now confident that we have been able to keep our steps forward propelled by such pride.
Pride is a milestone for new journey.
Cherishing such pride, we have to broaden our perspective further, and keep moving forward by utilizing our thought.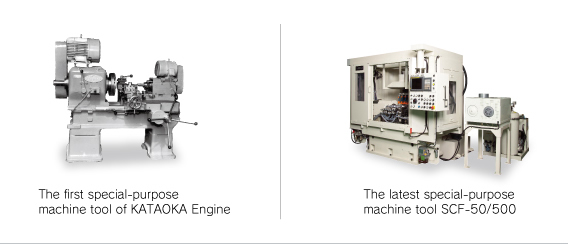 ❶In 1982, KATAOKA Engine was introduced in the house organ of WellWorthy Limited, England.

❷In June 2007, we were commended by the Minister of Economy, Trade and Industry for our high international competitiveness and dedication to regional economy.

❸In April 1993, we were commended by Nippon Piston Ring Co., Ltd. for our contribution to the establishment of production lines specially designed for Mercedes-Benz.

❹In the February 2006 issue of "Fole – Close-up / Real Strength of Japanese Business Companies"(Mizuho Research Institute Ltd.), the whole picture of KATAOKA Engine was introduced.

❺In August 2007 issue of "Nagoya That's New to You" (Yosensha Mook), the world-top technical power of KATAOKA Engine was introduced.

❻In the article of "Business Chance Forecast in 'Boiling' India" in the combined issue of January 1 and 6, 2006, of "Weekly Post" (Shogakukan), KATAOKA Engine was introduced.

❼In February 2007 issue of "Only-One Company That May Conquer the World – Micron Precision by Manual Work" (Yosensha), KATAOKA Engine was introduced as a business company with the world-top market share.

❽In 1998, we participated in a reconstruction work sponsored by the Japanese government from the catastrophic fire of a tuck manufacturing plant of Kamaz Incorporated, Russia.