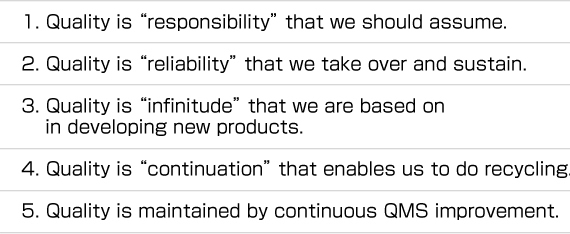 | | |
| --- | --- |
| | |
| | KATAOKA acquired the certificate of ISO 9001, an international standard for quality assurance, in 2009. While refining the high quality and the developmental technique, we will keep manufacturing human- and environment-friendly products. |
| | |
| --- | --- |
| | |
| | KATAOKA complies with the CE Marking, a mandatory conformity mark for products placed on the market in the European Economic Area. Our products are conformable to the EC Directive on Safety resolved at the EU Council of Ministers. Accordingly, we have declared the safety of our products. |


While the more environmental considerations and energy saving are attracting attention in the internal-combustion engine field, the more the importance of the functions of engine parts, such as piston rings and camshafts and their quality and const reduction, is growing.
Piston rings turned out by various special-purpose machine tools of KATAOKA Engine can satisfy various needs, such as appropriate pressure distribution to be achieved by ideal ellipse, friction reduction by width narrowing, durability improvement by machining in compliance with various special coatings on outside diameters and edge faces and adoption of steel as material.
As a result, we have helped the manufacture of clean, fuel-efficient engines, for which we have obtained high reputation in the world. Also, for camshafts, we are contributing to friction reduction and longevity by achieving ideal cam contours and super-finishing after grinding.
KATAOKA Engine has launched a team of machine tool development specially designed for engine parts with fresh ideas, promoting mechanical loss reduction by as much as 65%.